Kuhl Onyx 1989 - 2009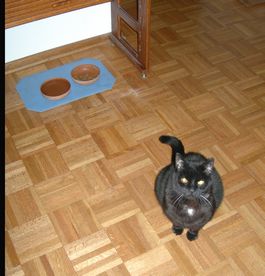 On March 13, 2009, Kuhl succumbed to his struggle with old age. It took us weeks to decide that his suffering had become greater than our desire of his companionship.

Kuhl was returned to where he came from with the promise of a peaceful departure from this world. It is our belief that Kuhl has now been greeted by his Mom and that she has licked away all of his worldly pain and discomfort in preparation for his next journey.

At 19 years and six months, Kuhl had a good and long life as the superior hunter kitty on Stratford Drive.

In his retirement he enjoyed many little cans and other yummy treats. He especially enjoyed lap sits in the early morning.

Kuhl will be greatly missed and fondly remembered as are his predecessors, Level (1989) and 80 Grit (1978).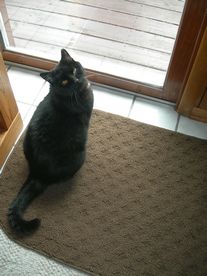 2010 One year later....
I know Kuhl is not here anymore but, from the corner of my eye, I see him from time to time. It is a dream-like moment when his presence is inspired by a pair of black boots or a dark piece of cloth lying just out of my focus.

For many years Kuhl had regular visits from a few neighborhood cats. I have only seen Orange Stripey kitty during this last year. He is making sure that Kuhl's beloved deck is well attended to.
Two years later....
I still miss Kuhl kitty but the sadness has turned to occasional happy memories. I still go gaga when I see a kitty but the desire to have another pet is not there.
Three years later....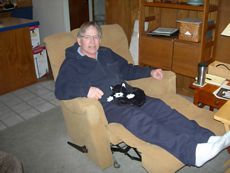 Time has not erased my thoughts about Kuhl kitty and the desire to have another pet is growing. To stem that thought I was presented with this placebo.
Four years later....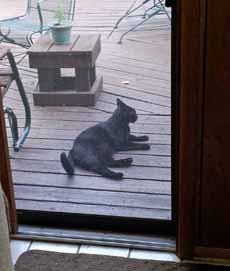 I still miss Kuhl kitty but there is a new kitty in the neighborhood. New people moved in across the street and soon a visitor appeared on our deck. His name is Vader. Look familiar, Kuhl?

Every now and then I get some kitty face time from the visitor but he is not allowed into the house.

Five years later....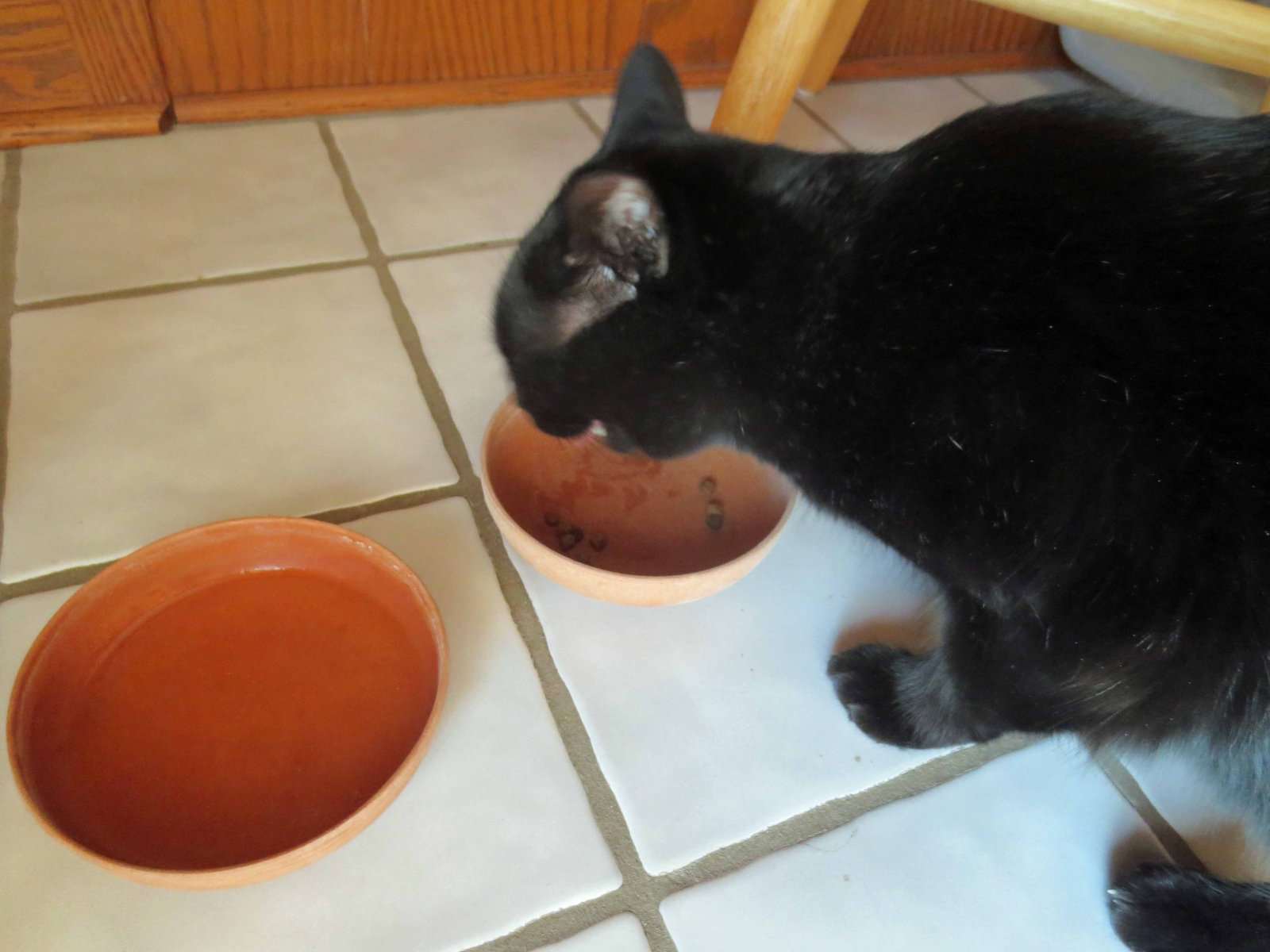 I hope you don't mind, Kuhl, that I have returned your food and water dish to service. The occasional visitor enjoys them very much. It seemed the right thing to do.

I have caught myself calling him Kuhl. Shame on me as he is nothing like you were. I am thinking how nice it would be to have a kitty like you again.
Six years later....
I still miss you, Kuhl. I look, from time to time, but haven't found just the right kitty. I am told I can't have another kitty cause the granddaughter has allergies. Time well tell.
Seven years later....
Seven years ago, today, Kuhl and I separated from our earthly journey, together, of nineteen some years. Kuhl had completed his journey and I had a bit to go on mine. Nothing has changed in all these years, I still miss Kuhl and there is no new kitty. I still have Kathy (human) so I am doing well. And I am still looking at options to get some face time with a kitty, volunteering, foster home possibilities, and neighborhood pets. Beyond that life is full of challenges while time marches forward in an accelerated manner. Mew, Kuhl.
Eight years later....
Well, Kuhl, I did it. I finally got around to taking in a foster cat from a local humane society. Her name was Cherish and she was close to 11 years old. Cherish lost her sight some five years ago but that is all that was known. She also has a clipped ear and is missing several teeth. She was very sensitive to touch and let's out a god awful screach when touched. But after a very short time I became a foster failure and adopted Cherish on December 16, 2016. She was quickly renamed Decibelle for her sharp voice.
Decibelle has done very well in our home and continues to improve on her social skills. She is very tidy and has great bathroom manners. I think you will approve of her.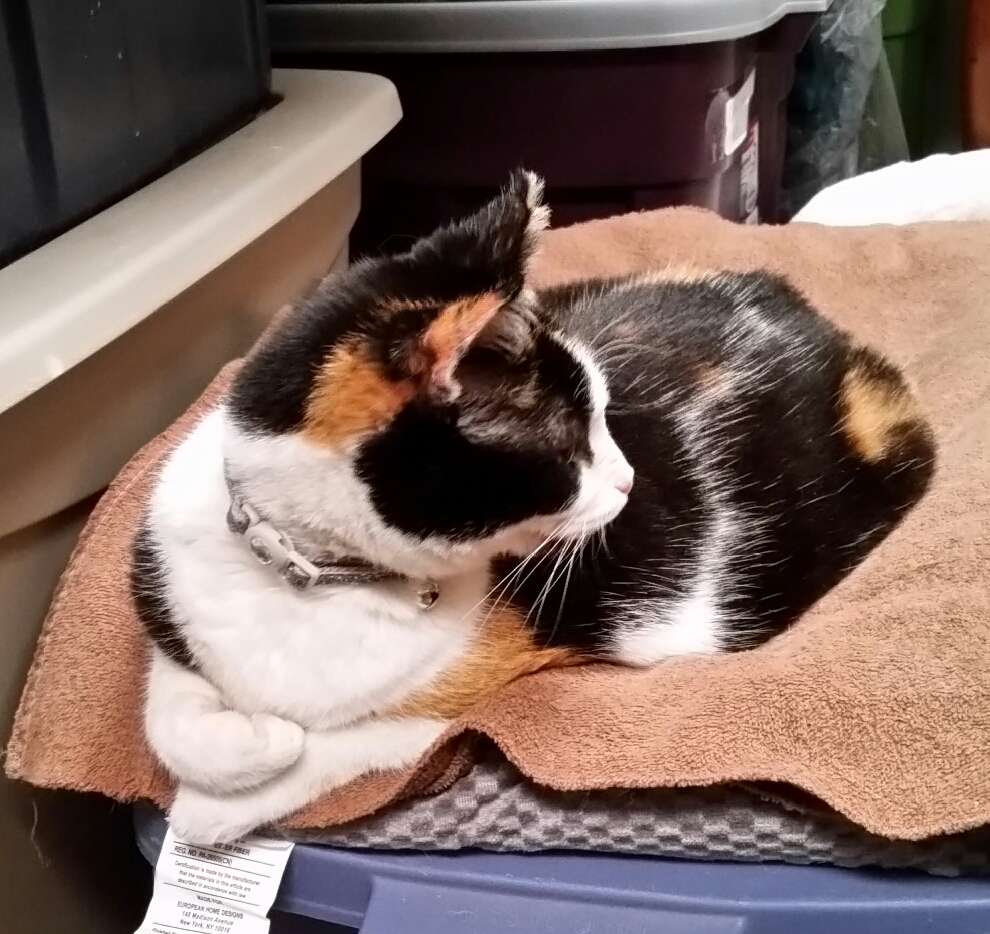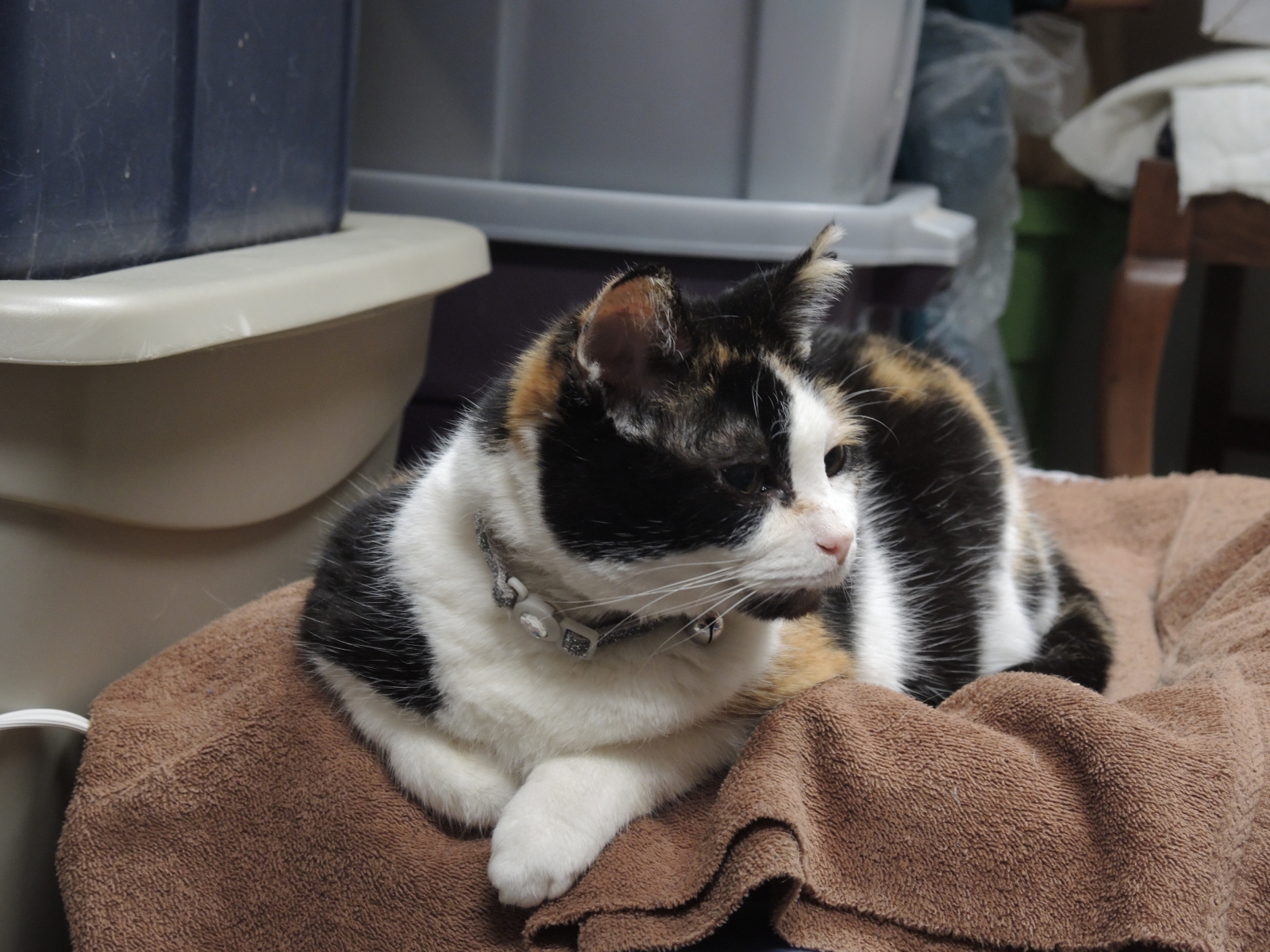 9 years later
Last May, another kitty joined our family in hopes of a companion for Decibelle. She is an older girl tortoiseshell. Decibelle hated her. We named her Ms. Frekelz. She is sighted and loves to rip around the house. She is also a cuddler. I wish you be here, Kuhl.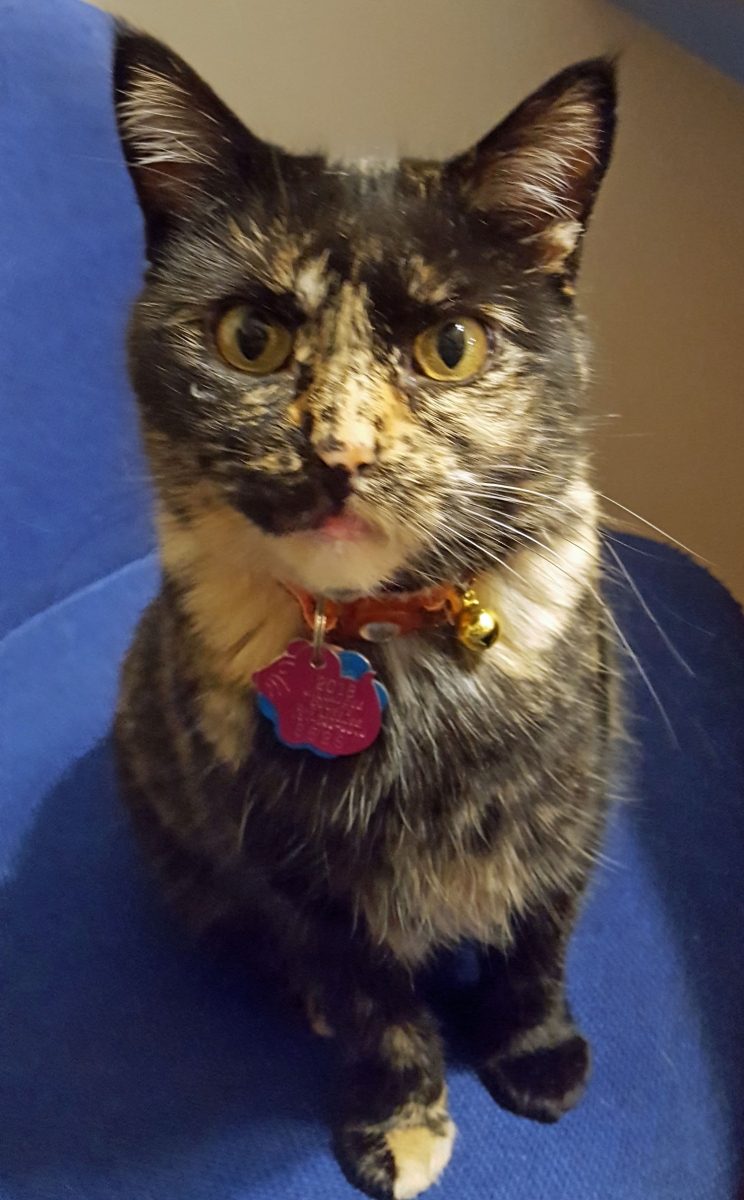 10 years later
Kuhl, I am said to inform you that last November, 2018, Decibelle and Ms. Frekelz were returned to the shelters from which they were adopted. As sweet as each of them was, our lifestyles clashed with theirs. We are so different than when you lived with us. Kuhl, our retirement activities just make it impossible to have a pet. It turns out that our granddaughter is very allergic to cats. That made having cat pets a bad idea. I remain sad about these developments. I have become engaged in volunteering at an animal shelter doing whatever I can to get cats into forever homes. It is a satisfying way to spend my time. And I have all the training you, Decibelle, and Ms Frekelz have given me. I remain hopeful that, someday, I will be able to have a cat or two once again. See you next year, sweet Kuhl Onyx.
11 years later
Kuhl, another year has passed and I still think of you often. And your life's story has become part of my discussion with most of the adopters of the 275 cats I have helped find homes for this past year. In addition, I have started to foster cats as well. So far a pair of 2 month old kittens, a one year old cat and most recently a 9 year old cat. All were here for recovery of disease and receiving medications. I find my volunteer work to be very pleasing as well as very distracting from my usual activities. I hope to eventually find a suitable balance between the two. I hope you are pleased with my increased desire to know more about cats. You were a wonderful pet and a great cat. See you in my dreams until next year.
12 Years Later...
Kuhl, it was a year of COVID which turned our world upside down. I was not able volunteer for a couple months due to the COVID lockdown. As an Adoption Councelor, at MADACC, I have reached nearly 400 cat adoptions and as a foster dad, some 15 cats of all types and ages. I have also fostered for WHS-MKE. I remain without a pet of my own. I prefer to use my energy hoping to have made a cats life a bit happier. The foster room has become fairly sophisticated and very cat proof, which allows for fostering kittens. I continue to enjoy the memories you packed my heart with.
13 Years Later...
Kuhl, another year of COVID, but no more lockdowns. I left MADACC, just under a year ago, in favor of volunteering at the Elmbrook Humane Society. I am a cat socializer there as well as a foster dad for cats. One of those cats, Greta, showed me how kittens are made and brought them up to 2 months of age after which all 5, including Greta, herself, found new homes of their own.. She was amazing and was very patient with my attempts to help. She had her own way to raise her kittens and that was that. She was in the foster room for 116 days! I also continue to foster for WHS-MKE when I can. The foster room has gained a cat wheel to further enhance the foster's fun. So far, no takers. There is now a virtual window in the works, a way to bring the outdoor bird feeder into thew foster room. Just yesterday I got to tell the story of your encounter with that owl, all those years ago. You sure knew how to have a good time, Kuhl.
14 Years Later...
Kuhl, you remain in my thoughts and I miss the years we had together. This has been a busy year with volunteering, fostering, and furniture construction. I have missed out on a couple mom/kitten opportunities because there is not enough time before my surgery. I don't know how recovery will go or when I can take up fostering again. I remain optimistic about the outcome of the surgery.