Replacing Luggage Wheels
Posted May 28, 2016
We recently purchased a couple pieces of luggage from Rick Steve's at https://www.ricksteves.com/shop. Somehow I got interested in what happens if the wheels ever break. I googled the subject and learned that repair of broken wheels is rarely covered by the manufacturer. They may offer to fix the broken wheel but the cost could approach the price of a new bag. If you choose to own a Cadillac of luggage then the company will repair the bag no matter what happened to it. Of course, you still have to get the damaged bag to the manufacturer.
I thought it would be cool to have replacement wheels on hand should any of our wheels break. That would sort of self-insure us in the event of breakage and circumvent the need to ship bags back and forth for repair. I sent an email to Rick Steve's about getting replacement wheels for our bags. The reply was as follows:
Unfortunately, we do not carry replacement wheel parts. Should anything happen to your bag, please contact us and we are happy to help out!
You can read our product guarantee here:
Every Rick Steves travel product comes with our guarantee that it will be free from material and manufacturing defects for the life of the product. If a defect appears, we will either repair or replace the product (at our option) free of charge. This guarantee does not cover damage caused by an airline or other common carrier. Nor does it cover wear and tear to components and materials which may occur over time with use of the product.
The last sentence tells me that up until the point I actually use the bag they will repair any damage. Beyond that not much coverage is offered. This policy seems to be the norm in luggage of this sort, not just this company's policy. But it didn't leave me feeling warm and fuzzy. I proceeded to see what could be done.
Additional searching uncovered a whole new approach to the repair issue. Replace the broken wheel with an in-line skate wheel made from polyurethane. You get a much quieter running wheel made with higher quality in mind. There are quite a few design choices incorporating different colors, various specifications of ball bearings, and various durometer (softness) values. So I was bitten by the desire to mod my bag. I justified the decision with having the ability to replace wheels, in house, as needed in the future.
I actually found YouTube videos showing the process for luggage similar to ours so the rest was easy.
I disassembled my bag to remove the wheels and determine what parts I would need. The original wheels ran on an axle that was riveted in place, a method that promotes cheap manufacturing however demoting easy reparability.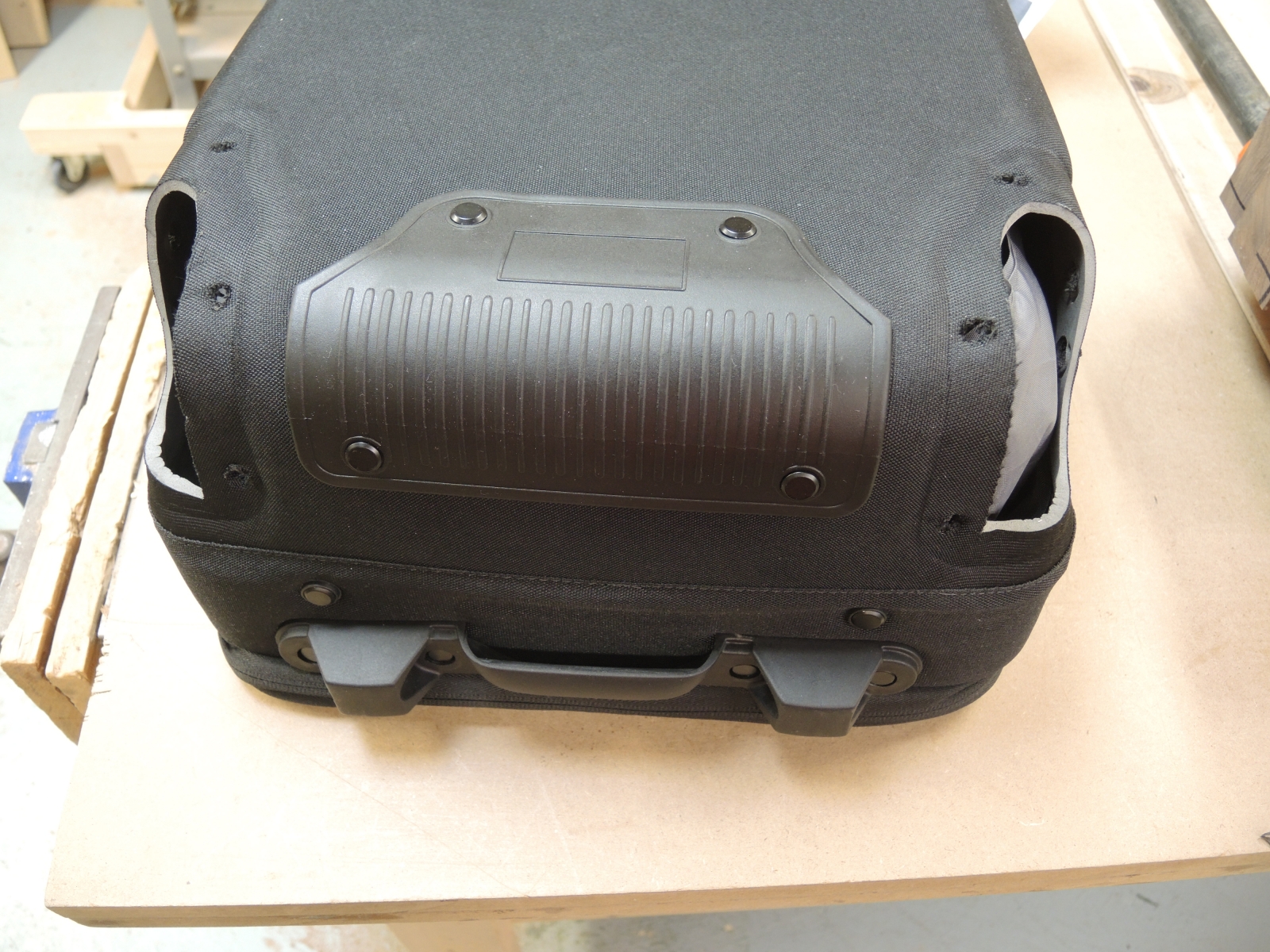 My bag (Rolling Carry-On) uses an 8mm diameter axle, 608 bearings with an 8mm ID, and a 76mm diameter wheel. From the YouTube videos I learned that I could use a Button Socket Head Screw 304 SS - 5/16"-24 x 2" held in place with a Hex Jam Nut 18-8 Stainless Steel - 5/16"-24 for each wheel.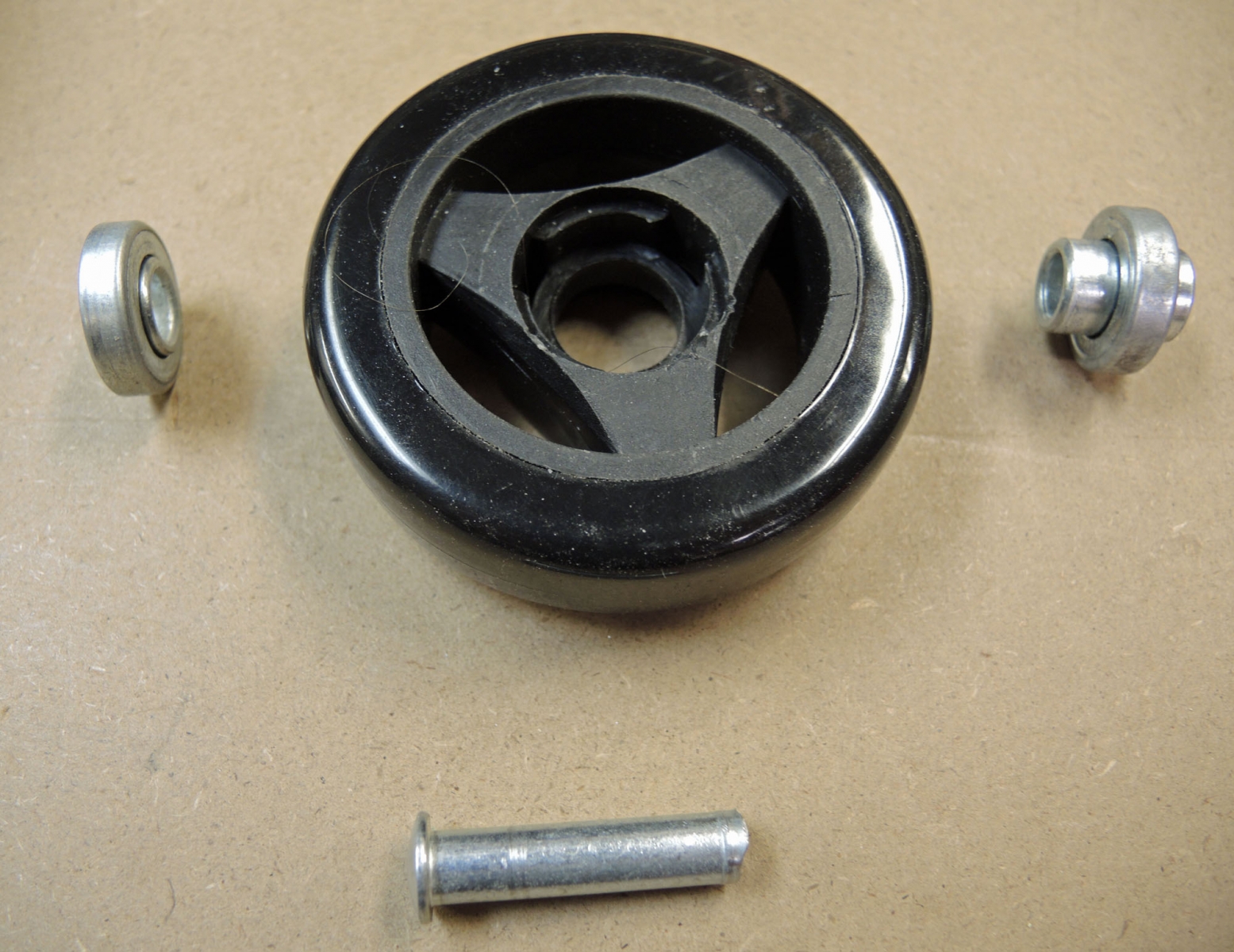 The inline skate wheels came with high precision bearings unlike the cheap original bearings.
It worked like a charm and now I have a cool bag that will stand out in the crowd. The new wheels roll so smoothly and without the noise of the original hard plastic wheels.